The DXBG table-top adhesive dispenser is a cylinder and piston metering device using gravity feed tanks located just above the metering section, a convenient and space saving method of material storage.  The metering section is designed to produce a specific volume ratio each time the cylinders refill. Once the metering chambers are full, two pistons drive the adhesive out through two ports directly into two corresponding ports in the plastic, disposable mixer where blending of the components takes place.
The wetted components are available in various plastics or 316 stainless steel which makes the unit ideal for most adhesive, including acrylics.
The control switch has two positions, continuous and shot. In the continuous position a constant stream of adhesive is produced, in shot mode, each time the foot pedal is depressed a shot is dispensed. An adjustable rod positioned within the unit can be used to provide accurate repeatable shots sizes.
The entire unit is mounted on a pedestal with adjustable height to accommodate different products.
Standard ratios include 1:1, 1.5:1, 2:1, 4:1, and 10:1. A much wider range is available; please consult with an Ashby Cross sales representative.
Depending on how the system is configured, max shot is approximately 85 cc and the smallest shot is approximately 1 cc.
The DXBG is an economical, reliable, and cost effective method of dispensing tw0-part adhesives in any production environment.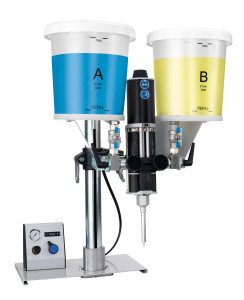 Please contact Ashby Cross at 978-463-0202 with any questions.